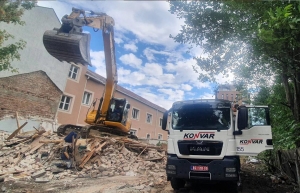 The city of Belgrade, with over two thousand active construction sites, has been setting records in construction for the third year in a row and is one of the largest construction sites in Europe, as the authorities point out.
Many years of investment in resources and mechanization have enabled us to follow the development of construction and be part of the development of the city of Belgrade.
In addition to a large number of references for relocation and construction of all infrastructure facilities, in September we signed contracts for construction works (demolition of buildings, clearing, wide excavation with soil preparation…) for the construction of residential and commercial buildings in Voždovac.