News

2020 godinu svi ćemo zasigurno pamtiti po globalnoj pandemiji virusa Covid-19 čije je delovanje još na početku godine pretilo da pored opasnog uticaja na zdravlje i socijalne aspekte društva poremeti i poslovne planove. Odgovornim ponašanjem i brigom o zaposlenima sa konstantom primenom svih propisanih zdravstvenih mera u Konvaru ćemo je ipak pamtiti i kao godinu koja je nastavila 16 godina dugačak niz dobrih poslovnih rezultata.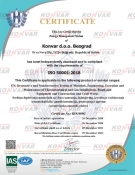 U godini ispunjenoj najrazličitijim uticajima globalne pandemije koji su, između ostalog, zahtevali i čestu reorganizaciju poslovnih aktivnosti, vođeni našom vizijom nastavili smo da unapređujemo procese rada sa osnovnim ciljem da postignemo još bolji kvalitet i efikasnost naših usluga kao i da obezbedimo našim zaposlenima bezbednu i zdravu radnu sredinu. Na početku godine implementirali smo standard SRPS ISO 27001:2014, sredinom godine završili resertifikaciju ISO 9001, 14001 i 45001 standarda da bi pred sam kraj godine uspešno implementirali i SRPS ISO 50001:2018 sertifikat.

Works on the construction of access roads around the new bus station in New Belgrade's Block 42 began at the end of June 2020. and are currently in the final stages. In addition to the construction of infrastructural facilities in Yuri Gagarin Street and the Antifascist Struggle, the rehabilitation of the existing part of the road construction is also underway.