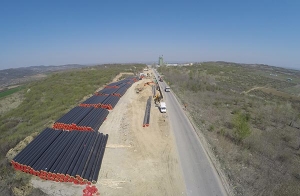 With the aim of expanding its heat capacities and distribution network, TO Konjarnik and with the aim of significantly reducing gas procurement costs, JKP "Beogradske Elektrane" signed a contract with the city of Belgrade with the task of building infrastructure for heat production produced in the combined heat and power plant. thermal energy in the sanitary landfill complex that will be built at the city landfill in Vinča.
In addition to technical and economic aspects, this project, with its technology, aims to arrange the city landfill in Vinča, and thus protect the environment of that part of the city by building a state-of-the-art plant for processing and utilization of garbage and waste from the landfill. As the main contractor of this project of great importance, the company Konvar is working intensively on the construction of the pumping station PPS-1 Vinča as well as the second phase of the transport heating pipeline from the landfill Vinča to Smederevski put.
In the next period, the beginning of the construction of the first phase of the heating pipeline along the Smederevo road through Mali Mokri Lug to TO Konjarnik and the pumping exchange station PPiS Konjarnik is expected.