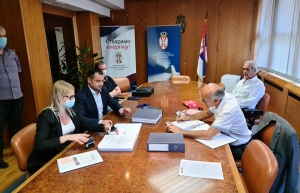 In the premises of the Ministry of Mining and Energy, on September 21, 2020, a contract was signed for the rehabilitation of the district heating system in Mali Zvornik and Priboj, which is financed by a loan from the German Development Bank (KFW), within the German-Swiss project - " Promotion of renewable energy, development of the biomass market in Serbia ".
The contract worth 1.500.000,00 EUR envisages the preparation of project documentation and rehabilitation of the hot water network in the length of 12 km of pre-insulated pipes that will connect the users to the district heating system. Priboj and Mali Zvornik are the first cities in Serbia to build new ecological city heating plants on wood biomass, which will completely replace the current energy source - fossil fuel, which gives this program and project special significance, because in addition to energy efficiency, emphasis is now placed and on environmental protection - says the director of Konvar, Miloš Petrović.
According to the plan, the rehabilitation works will be completed in January 2022.