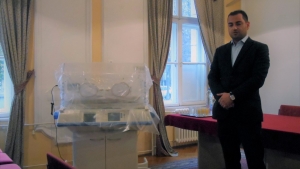 As a socially responsible company aware of the day-to-day problems faced by healthcare institutions in Serbia, Konvar donated 1.8mio RSD worth of equipment to this institution to improve the conditions of stay of prematurely born children at the Institute of Neonatology in Belgrade. C2000 injector and transcutaneous bilirubinometer manufactured by Dräger Medical.
"The donation to the Institute for Neonatology represents an investment in the future of children and we are very proud to have been able to provide an incubator and transcutaneous bilirubinometer to this institution. Visiting the Institute, we made sure that the equipment we donated will certainly contribute to better conditions in the treatment of premature babies. Konvar has a developed culture of corporate social responsibility and we will strive to continue to participate in similar actions in the future, with the priority of helping children, "said Milos Petrovic, Konvar's director of design, manufacturing, services, quality control and engineering.
Director of the Institute of Neonatology Prim. dr sci. honey Milica Rankovic thanked Janevski for her donation, which is a great help in treating premature babies. "The incubator is part of the medical equipment that is necessary to provide our young babies with the best possible treatment and treatment outcome, in addition to the chance of life. The main function of the incubator is to provide babies with the most complex health problems protection from refrigeration, infection, noise, adequate use of supplemental oxygen, monitoring and minimal disturbance. For all of us who work with newborn babies, the desire to minimize painful procedures is also an imperative of modern neonatology, therefore, a device that determines the level of bilirubin across the skin is completely painless and fast, very valuable because it improves the quality of work and treatment. "
The Institute for Neonatology treats 20-25 percent of the total number of prematurely born children born annually in the Republic of Serbia and over 50 percent of those born under 1500 grams. The treatment and care of this very vulnerable and at-risk population is a very demanding, complex and delicate job. In order to achieve optimum results, the highest level of survival and quality of life, it is necessary to provide at all times high professional staff, equipment, space, as well as all accompanying conditions for diagnostics, treatment and care.