The company "Konvar" has accreditation certificate for testing laboratories of the Accreditation Board of Serbia according to SRPS ISO / IEC 17025: 2006 for the activities for testing of metallic materials, welded joints, steel castings, pipelines and gas installations.
The lab used the following test methods: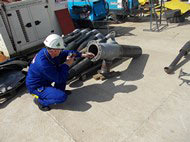 Before any other methods for testing welded joint, we apply visual inspection (VT). This method of testing is relatively inexpensive, does not take much time, and can provide very useful information on the quality of welded joints and on the necessary tests or other methods. For help with the visual inspection in the tight and difficult accessible parts of the structures we use different equipment (cameras, endoscopes, mirrors, magnifying glass, etc.).